Photo Link to 2022 Marine Corps Birthday Ball * Brookside Country Club, Pottstown, PA
https://photos.app.goo.gl/H97wDZzJc4vfZP827    
Link to more photos from the Birthday Ball 
Thank you Tom Hyland and Billy Worrell
************************************************************************
2021 Marine Corps Birthday Ball  * Spring Hollow Country Club, Spring City, PA
Honored Guests:  Maj Owen Sisbarro, USMC Ret, Maj Sharon Sisbarro, USMC and
PFC Francis Sisbarro, USMC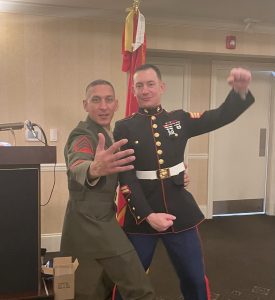 2019 Marine Corps Birthday Ball  * Brookside Country Club, Pottstown, PA
2019 Officers Installation
Photos from Reading Phillies Outing June 4, 2016
************************
Memorial Day Service / Pottstown Memorial Park
Photos by Tom Hyland
*************************
Photos from Memorial Day 2016 Service at Ellis Woods Cemetary, Pottstown, PA
*************************************************
Installation of new Officers 2016
*****************************************
This photo was taken at the 60th anniversary of the end of the Korean War, last Saturday 9/21, 2013 in North Wales, PA 
Two Marines from Conshohocken, PA
Vince Improto & Bobby Weidner !!!!
OORAH MARINES!!!
Photo submitted by Al Pasquale, Thank you Marine. 
"We Will Never Forget"
1st Commandant of the United States Marine Corps | Samuel Nicholas
On November 5, 1775, Samuel Nicholas was commissioned a "Captain of Marines" by the Second Continental Congress. Five days later Congress authorized the formation of two battalions of marines for service against the British. With the official birth of the Continental Marines (later US Marine Corps), Nicholas had his appointment confirmed on November 18 and was commissioned as a captain. Quickly establishing a base at Tun Tavern, he began recruiting Marines for service aboard the frigate Alfred (30 guns). Working diligently, Nicholas raised five companies of Marines by the end of the year. This proved sufficient to provide detachments for the ships of the Continental Navy then at Philadelphia
The Dedication of a Memorial Marker for Samuel Nicholas, First Commandant of The United States Marine Corps.
                                       PHOTOS BELOW: 
Semper Fi,
Patrick J. Hughes U.S.M.C. ChuLai 67-68
Upper Darby Detachment #884